Intro
Just as it is with the Grand Slam in tennis, so it is with the Grand Tour of Switzerland – exceptional. At more than 1,600kms in length, this unique route encompasses all of Switzerland's most enthralling highlights – deep blue lakes, majestic mountains, vibrant cities and picturesque villages. Roger Federer is our guide for this remarkable road trip, presenting his own personal favourite route sections.
Follow Roger Federer around Switzerland
Switzerland is the perfect place for touring. Roger Federer loves the fact it's so easy to get around and still has many places on his bucket list that he would like to visit. Discover all the highlights in one single road trip and follow in Roger Federer's footsteps along the Grand Tour of Switzerland.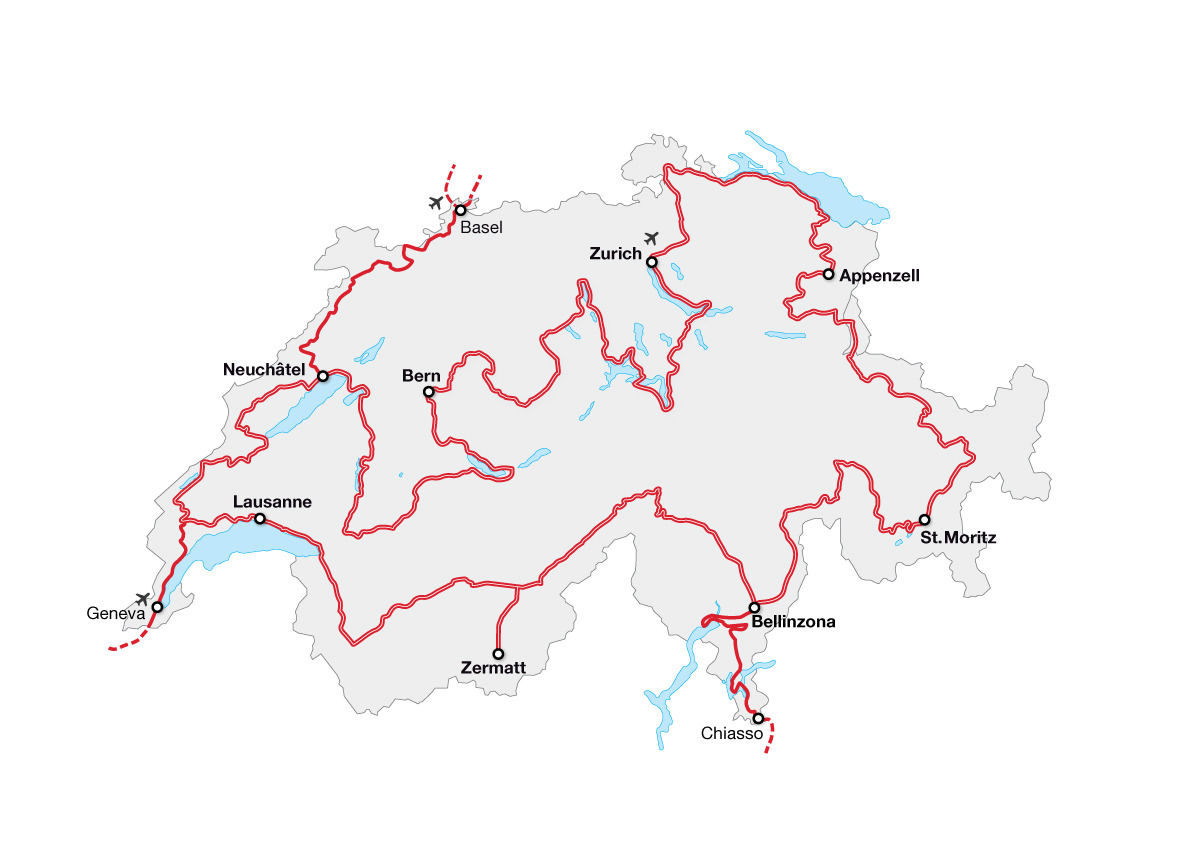 Münchenstein/Basel
Roger Federer was born here and spent most of his childhood in this area. As a child Roger Federer played football at FC Concordia in Basel. And it is here where he has also made tennis history: to date, he has won the 'Swiss Indoors' 10 times in Münchenstein
Roger's choice: Basel–Bern
Roger Federer has driven this route many times. Starting in his hometown through the famous watchmaking region to the capital: Bern. By the way, Bern's old town has even been declared a UNESCO World Heritage Site. It's definitely worth a stroll around.
Neuchâtel
In 1999, at the age of just 17, Roger Federer competed for the Swiss Davis Cup team in Neuchâtel for the first time when they beat Italy. The university town itself lies on the shores of the eponymous Lake Neuchâtel. Its medieval core, the castle and the collegiate church provide a characteristic charm.
Gstaad
In Gstaad with its lovely chalets, Roger Federer made his professional debut on the ATP Tour. It was also here where Roger Federer was given a cow after winning his first Grand Slam title at Wimbledon in 2003. How very Swiss!
Jungfraujoch
A tennis match at 3454 metres above sea level – against another world star. Roger Federer played a match with the famous american skier Lindsey Vonn on 'Top of Europe' in 2014. Who won, remains a secret.
Zurich
Roger Federer not only frequently trains in Zurich, he has also had some monumental matches here. He played against Andy Murray on a raft on the river Limmat. His 'Match for Africa' against Rafael Nadal, Andy Murray and Stan Wawrinka also took place in Zurich – raising money for The Roger Federer Foundation.
Roger's choice: Zurich–Appenzell
From urban Zurich to rural Appenzell, which means childhood memories and hiking trips. The spectacular Rhine Falls and the historically valuable Abbey District of St. Gallen also await you.
Alpstein
Roger Federer enjoys recharging his batteries here. In the region of the Appenzellerland, Roger likes the Alpstein region for hiking. No wonder, since he also has roots in eastern Switzerland.
Roger's choice: Appenzell–St. Moritz
A stage of records: Europe's smallest town, Switzerland's oldest city and our only World Monument can be discovered here. Roger Federer, of course, knows a thing or two about records – maybe that's why he particularly likes this route section.
Roger's choice: Lugano–Zermatt
From Lugano with its Mediterranean flair to Zermatt and the most beautiful mountain in the world: the Matterhorn. It was in Zermatt where Roger Federer chatted with Robert De Niro on a phone call in the infamous 'No Drama' exchange. Did you know that if Roger Federer were a film star, he'd love to be cast as James Bond being pursued by a Bond villain in an epic car chase on the Furka Pass.
Ecublens
At the age of 14, Roger Federer moved to Lake Geneva and trained at the national training centre (now located in Biel). These two years in French-speaking Switzerland further shaped his development, both personally and professionally.
Roger's choice: Lausanne–Neuchâtel
A trip down memory lane: Roger Federer spent two years of his youth in this area. But he would like to get to know the French speaking part of Switzerland a little better; Lausanne, Geneva and Neuchâtel are on his bucket list for the next road trip. Numerous Swiss highlights also await visitors here, such as the Lavaux – a UNESCO World Heritage Site – or the stunning Creux du Van.
Roger's choice
Roger likes to be prepared before going on his road trips. He also likes to know in advance what he's visiting and where he'll be staying. Here are some suggested road trip itineraries – all you have to do is pack your suitcase.