Inspiring Meeting Hotels
Melchsee-Frutt, Frutt Lodge & Spa
Intro
Some conferences are held in luxurious high-tech tents and feature an avalanche course, while others inspire new ideas at an art hotel in the heart of the old town and a chance to be creative in a painting course: Swiss seminar hotels make organising a conference, meeting, event or workshop a breeze! The hotels not only have all the necessary infrastructure, but are also in unusual locations and offer imaginative fringe programmes.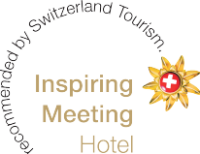 Inspiring Meeting Hotels are:
Inspiring
Inspiring locations will spark new ideas and give guests a break from their regular office routine.
Unifying
The hotels offer activities and experiences that bring a team closer together and boost their team spirit.
Relaxing
These hotels offer the highest level of comfort, which means a stress-free experience for both seminar organisers and participants.