Wellness & Spa
Locarno, Aussenbad Termali Salini
Intro
The Wellness & Spa Hotels offer much more than just relaxation. With activity programmes on sunny paths and terraces, beauty and anti-aging treatments with Swiss luxury brands, mind and body exercises to slow the pace of life, healing water, pools with a view and the finest health foods, you'll find everything you need to rediscover yourself.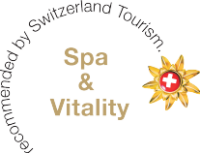 Spa & Vitality Hotels are:
Relaxing
An outstanding spa menu and range of services ensure guests enjoy complete rest and relaxation.
Rejuvenating
The aim is to be healthy and stay healthy. The hotels offer balanced nutritional programmes, individual treatments and exercise in the fresh, clean Swiss air.
Invigorating
The vast range of sports activities and personal care will invigorate both body and spirit.