Covid-19: Travel Conditions
Intro
For holidays, travel and business events in Switzerland: Here you will find all the latest information on the preparations and conditions for a trip to Switzerland as well as the operating situation in Swiss tourism.
Clean & Safe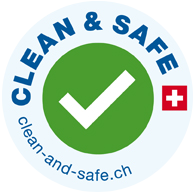 The tourism trade associations have launched a "Clean & Safe" label. The label lets guests know that they are visiting an establishment that has consciously committed to comply with the safety concept.
Last update: 22 April 2022
Tourism takes place in Switzerland without restrictions. 

Entry

Testing in Switzerland
Masks

Covid Certificate

In Switzerland there is no Covid certificate, you can move freely without conditions.
Mountain railways
Please contact the service providers directly (online/by phone) for information regarding their business hours and safety protocols.
Public transport services are operating.
Air traffic
Please contact the airlines directly (online/by phone) about the current air traffic situation.