Intro
From campsites and youth hostels to chalets and five-star hotels – all are geared towards families' needs. Children can be children here, and parents can find time for themselves for a change.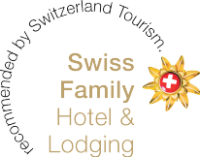 Swiss Family Hotels & Lodgings are:
Relaxing
The family-oriented services and infrastructure give parents the chance to enjoy some time all to themselves.
Entertaining
Activity programme and fun and games with other children ensure little ones have an enriching experience.
Unifying
A family excursion into the lovely Swiss countryside is sure to create unforgettable moments of togetherness for the whole family.