Intro
The Boutique & Design Hotels are a successful homage to the tasteful and exquisite. For guests with an affinity for architecture, design and culture, the hotel selection offers a variety of individual city hotels, creative hotel concepts and luxurious alpine chics in the Swiss mountains. Small and refined - with the boutique hotels characterized by personality, individuality and style; resolute and with a clear design approach in properties defined by concepts, architecture as well as design.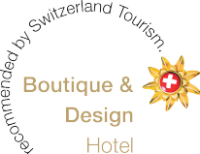 The Boutique & Design Hotels are:
Inspiring
Thanks to their unique architecture, the clear design language, the Boutique & Design Hotels have an inspiring and stimulating effect on the guest.
Refreshing
Lifestyle is written large in these hotels - refreshing concepts surprise guests in all areas of the hotel.
Individual
The boutique hotel is characterized by special individuality and personality in the furnishings and service.