Swisstainable – sustainable travel in Switzerland. 
Intro
Untouched nature touches our hearts. As a travel destination, Switzerland is synonymous with spectacular mountains, wild gorges and mystical forests; our nature has the power to provide energy. We aim to preserve this – for many generations to come.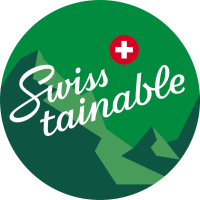 A new approach to travel
Sustainable travel doesn't necessarily mean having to go without. Sustainable travel means greater awareness and depth and more enjoyment. With this in mind, Switzerland follows its own sustainability strategy: Swisstainable.
Swisstainable is all about having one's finger on the pulse – and maximum relaxation in a natural setting:   
Enjoy nature up close and at first hand 
Experience the local culture in an authentic way 
Consume regional products 
Stay for longer and delve deeper   
Our manifesto
Swisstainable points the way to a responsible world of travel.
Swisstainable Winter stories
Handpicked by our Switzerland experts: sustainable stories from every part of the country.
Sustainable travel
We have put together a few basic tips to show how we can already travel more responsibly: 
Getting there

Switzerland is a public transport paradise. If it is not possible to travel by train, there are numerous ways to offset your CO2 emissions, for example with myClimate, atmosfair or SWISS.

Accommodation

Switzerland has a whole host of accommodation options that focus on sustainability. You'll find a selection of companies that are pioneers in sustainability in the section entitled "The sustainable way to discover Switzerland".

Length of stay

Longer stays have a positive effect not only on relaxation but also on the local environment and economy. Even the most remote valleys in Switzerland are easily accessible by public transport.

Experiences

For ideas and inspiration based around sustainable experiences, we have put together a wealth of wonderful activities that can be booked directly in our Experience Shop.

Clean water

Switzerland is one of Europe's prime water resorts. Quench your thirst along the way at one of the numerous drinking water fountains – ideally with a reusable drinking bottle.
Swisstainable summer stories
Handpicked by our Switzerland experts: sustainable stories from every part of the country.