Intro
Untouched nature touches our hearts. As a travel destination, Switzerland is synonymous with spectacular mountains, wild gorges and mystical forests; our nature has the power to provide energy. We aim to preserve this – for many generations to come.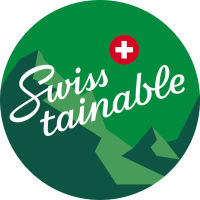 A new approach to travel
Sustainable travel doesn't necessarily mean having to go without. Sustainable travel means greater awareness and depth and more enjoyment. With this in mind, Switzerland follows its own sustainability strategy: Swisstainable.
Swisstainable is all about having one's finger on the pulse – and maximum relaxation in a natural setting:
Enjoy nature up close and at first hand
Experience the local culture in an authentic way
Consume regional products
Stay for longer and delve deeper
Facts and figures
What makes Switzerland a sustainable travel destination
One of the most closely-knit rail networks in the world, recycling champions, and impressive air and water quality – Switzerland is leading the way towards a sustainable future.