Winter Magic Tour

A travel suggestion from 8 days / 7 nights
5 sections & 2 to 3 skiing days
Glaciers, powder snow and frozen lakes: high time for beautiful landscape and snow fun – on the Winter Magic Tour.
Scenic rides
Luzern–Interlaken Express | Visp–Zermatt | Glacier Express | Bernina Express
Destinations
Lucerne | Interlaken | Zermatt | Chur | St. Moritz
Top sights
Jungfrau Region | Matterhorn | Rhine Gorge | Landwasser Viaduct | Chapel Bridge

Mountain excursions or skiing
Along the Winter Magic Tour you can visit or ski three different mountain regions, for example First/Jungfrau, Matterhorn/Gornergrat/Rothorn and Corviglia/Corvatsch.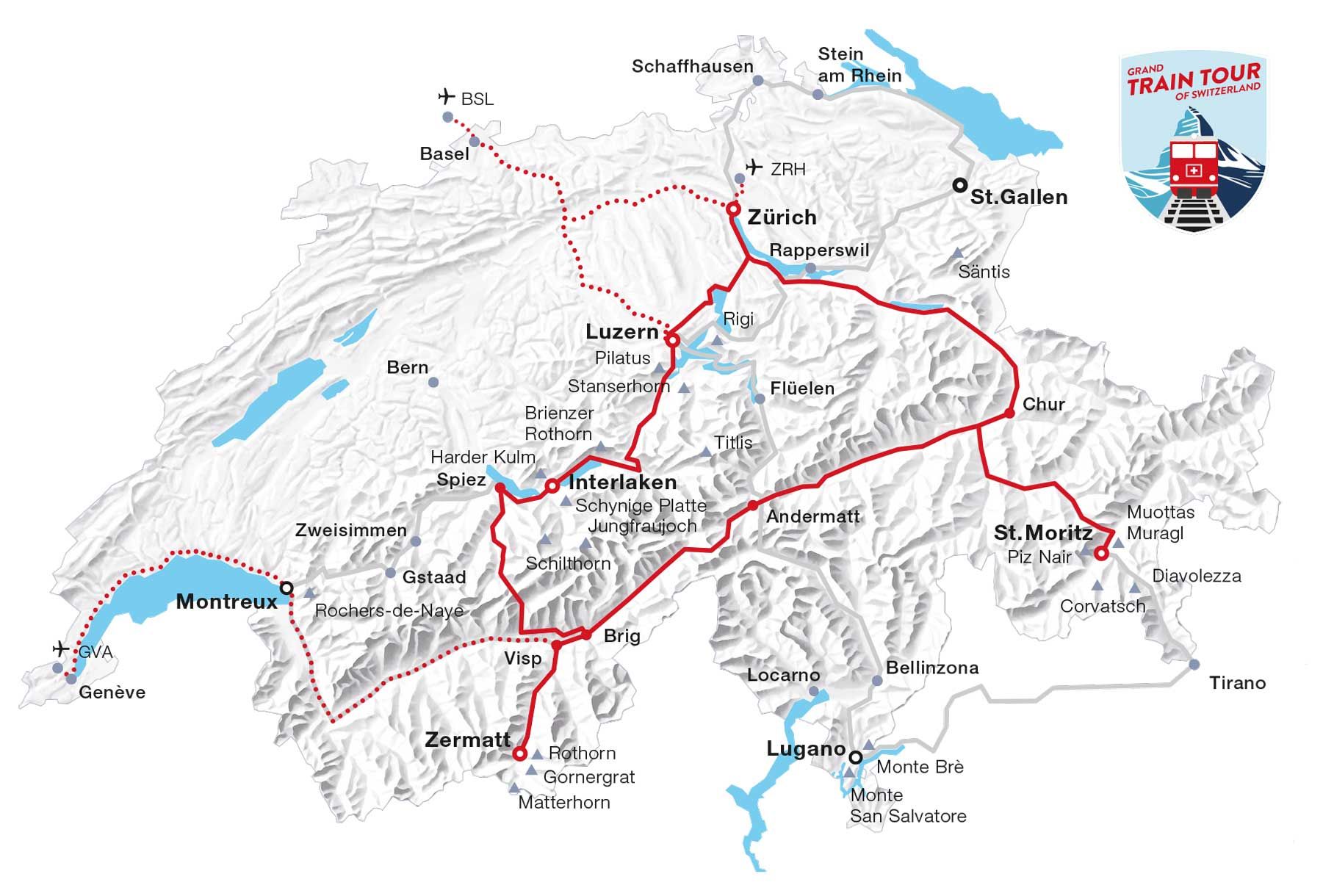 Interlaken – Spiez – Brig – Zermatt
Up the valley to the "mountain of mountains".
Luzern–Interlaken Express
Luzern – Interlaken. Along the shores of five crystal-clear lakes and past romantic waterfalls.
Zermatt – St. Moritz
The slowest express train in the world.
St. Moritz – Chur – Zürich Flughafen (Zurich Airport)
St. Moritz – Chur on board the Bernina Express, and from Chur on to Zürich.
Itinerary
The following 8-day itinerary includes one overnight in Luzern as well as two each in Interlaken, Zermatt and St. Moritz. Needless to say, you can adapt the number of overnights according to your wishes.
Day 1 | Border/Airport – Luzern
Days 2 + 3 | Luzern – Interlaken  
Days 4 + 5 | Interlaken – Spiez – Brig – Zermatt  
Travel duration: 2½ h
Highlights:


Scenic ride: Matterhorn Gotthard Railway through the Nicolai valley


Top sights: Jungfrau Region, Matterhorn


Mountain excursions: Jungfraujoch, Schilthorn, Grindelwald First, Gornergrat, Matterhorn Glacier Paradise


Interlaken: Starting point for many activities and adventures – surrounded by a gorgeous mountain scenery.


Zermatt: Car-free resort at the foot of the majestic Matterhorn: almost unlimited excursion possibilities – year-round.


Layover in Zermatt for 2 nights: Option for mountain excursion up to Matterhorn glacier paradise/Gornergrat or skiing experience/winter hiking


Timetable: Interlaken–Spiez–Visp/Brig–Zermatt
Days 6 + 7 | Zermatt – St. Moritz
Travel duration: 7¾ h
Highlights:
Timetable: Zermatt–St. Moritz (for Glacier Express, click "Advanced search" and select "Direct connections")
Day 8 | St. Moritz – Chur – Border/Airport
Have it all organised – book a package including accommodation.
Conveniently book the Winter Magic Tour as a package with one of our official distribution partners including accommodation, ski tickets & rental, train tickets and reservations.
Are you organising the trip yourself? Here is our ticket suggestion.
Swiss Travel Pass 8 days
For foreign guests, the all-in-one ticket Swiss Travel Pass (Flex) is the key to Switzerland's public transport network. It covers all sections of the Grand Train Tour – all you need in addition are the below listed seat reservations.
More ticket options
The public transport ticket range (point-to-point tickets, supersaver tickets, 1-day travelpasses, GA travelcard, etc.) is valid for the Grand Train Tour of Switzerland.
Do I need any seat reservations?

In addition to a valid ticket, a seat reservation supplement is required for: