Fondue-Experiences Switzerland
Le Mirador Resort & Spa, exterior view fondue gondola
Intro
Find a truly authentic fondue experience in Switzerland: Whether traditional fondue chalet, pop-up restaurant, fondue gondola, staged as an experience or as a large-scale event for companies. Experience the fondue variety Switzerland has to offer during the year or especially in the winter months.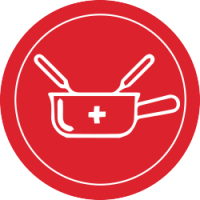 Everything you need for your Fondue party:
Drinks

The most popular beverage to drink to Fondue is white wine. A dry wine like a Fendant fits best to the cheesy meal. But red wine, champagne, black tea, cold apple juice or just water are also great to combine with Fondue. And to complete the perfect Fondue experience, a little sip of schnapps like Kirsch, Williams, Calvados or Grappa in between helps to intensify the spices.

To dip

Fondue is usually eaten with bread. The bread is cut into little peaces and spiked onto the fork so it can be dipped into the hot cheese. White bread is the most common bread to use but semi-white or wholegrain bread also works fine. Potatoes, vegetables or fruits (e.g. apples, grapes or pears) are other great options to dip into Fondue.

Sides

Since Fondue itself already is a culinary spectacle, it doesn't need much more. But pickles, silver onions, olives, dried tomatoes, paprika, asparagus, corn or fruit match great with the meal.

Dessert

For those who still have room for dessert after the Fondue, something light will fulfil the perfect meal. A light sorbet, a fresh fruit salad, or a mousse.

Caquelon

Caquelon, the pan for Fondue. The original Fondue pan is made of cast iron, but there are also some made of enamelled steel or ceramic. It doesn't really matter what the pan is made of, but it is very important that the Caquelon is large enough. For six people it should hold at least two litres. To get the Caquelon clean after the Fondue, put cold water into the pan and leave it over night. This way, the cheese residues can be cleaned without any problems.

Rechaud

The little flame under the Caquelon is called Rechaud. It's job is to keep the Fondue hot and liquid. Nowadays it is made from fuel paste. That's much safer than what used to be done by simply filling a cup with fuel.
200 g

On average, 200 g of cheese per person is calculated. A portion of only 150 g is sufficient if there are "small eaters" at the table. 250 g to 300 g must be provided for especially hungry mouths, e.g. after a day of skiing. In addition, calculate 200 g to 250 g of bread per person.

65%

Between September and December, around 65% of all fondue sales in Switzerland take place. Around one in two households buys fondue, i.e. around 52% of all Swiss households.

50/50 Moitié-Moitié is a term that almost everyone knows. This means basically nothing else than the respective cheese portion (half-and-half) which goes from the Vacherin Fribourgeois AOP and Le Gruyère AOP in the fondue.