クラシックホテル
Flims Waldhaus, Schweizerhof Flims
Intro
Immerse yourself in history, enjoy culinary traditions and the ambiance of times gone by – in a late baroque guesthouse or a Grand Hotel from the Belle Epoque surrounded by mountains, forests and Alpine meadows; the Swiss Historic Hotels are cultural gems where hospitality has been nurtured over generations.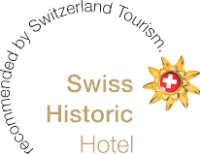 Swiss Historic Hotels are:
Charming
Guests will be enchanted by both the historical architecture and the stories that these old buildings have to tell.
Vibrant
Time has shaped these hotels – each impresses guests with its own character and impressive appearance, playfully combining old and new.
Welcoming
In the best tradition of hotel hospitality, the host will ensure guests receive a warm welcome and personal attention.