Switzerland – a paradise for wine-lovers
Wine regions
Switzerland's winegrowing industry is divided between six regions. Each of these has its own distinctive character. Discover their special qualities.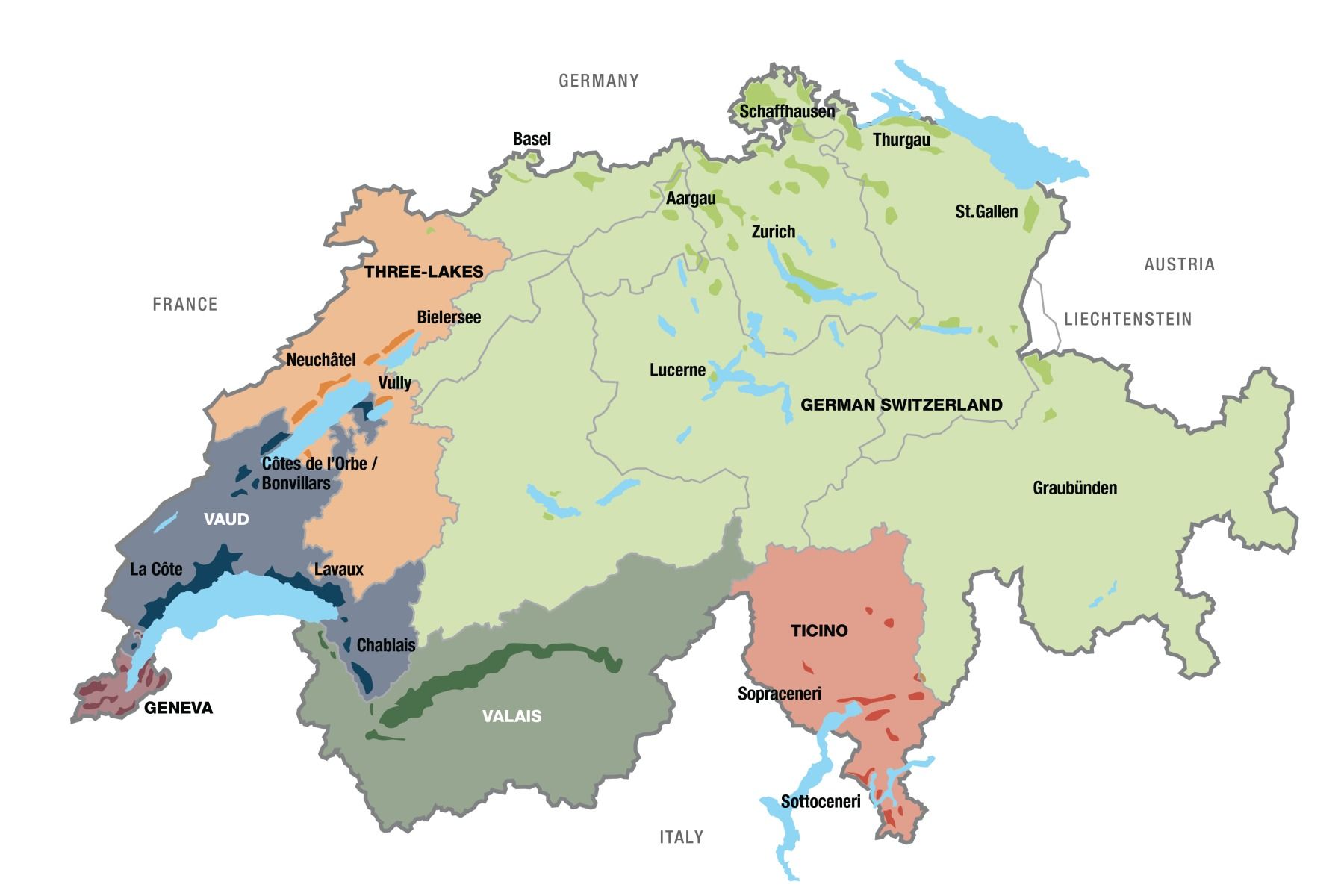 Red or white? 
Top ten varieties
The country of Switzerland boasts an enormous variety of different terroirs. With over 252 types of grape being cultivated, this gives it a unique character that is beyond compare. The following chart shows the ten most commonly grown grape varieties.
Who produces the most?
Comparison of the wine regions
All six wine regions contribute to the diversity of the Swiss wine landscape. In terms of quantity, the largest contributor to wine production is the Valais at one third, followed by the canton of Vaud and German-speaking Switzerland. The smallest quantity comes from the Three Lakes region. 
Did you know…?
Facts and figures
Production: 148 million bottles per year
No fewer than 148 million 750ml bottles of Swiss wine were produced in 2019.
Consumption: 38 bottles of wine per capita
Per capita, the Swiss drink 38 750ml bottles of wine each year (based on population as at 31 December 2018). Of these, 14 bottles come from Switzerland itself.
Export: 1%
Swiss wine is a rarity. Only about 1% is exported. That's because the Swiss prefer to keep their wine to drink themselves. Domestic demand is so high that very little remains for export.
Conclusion: a trip to Switzerland is (almost) essential if you wish to discover Swiss wines.
Producers: 1,500
Spread over Switzerland's six wine regions, around 1,500 winegrowers produce their own wines. 
The smallest vineyard in the world
Saillon – the smallest vineyard in the world – comprises just three vines. It is located in Valais, measures 1.6 square metres and has been owned by the Dalai Lama since 1999. 
Europe's highest vineyard
Below the village of Visperterminen lies Europe's highest vineyard at an elevation of between 650m and 1,150m above sea level.
26 cantons
Wine is cultivated in all of Switzerland's 26 cantons. 
Dating back to Roman times
Grapes have been cultivated for winemaking in Switzerland since the days of the Roman Empire.